Database creation using GIS of Phagi Block, Jaipur
     GIS is a versatile tool that can be used for different applications whether for natural resource management or management of manmade/human/anthropogenic induced activities. To manage resources or maps, one needs to have a reliable source of information to use as input in GIS. 
     This reliable information can be collected either by physical survey or existing accurate database. These collected databases can be used in GIS for the creation of spatial or non-spatial databases. With this different digital map, layers can be generated in GIS for specific project areas based on different input data formats such as survey data, field sample data, existing maps, and satellite-based data. 
   These GIS layers in the form of maps can be used for data analysis, and data management as well as for planning and monitoring. It is true all the databases in excel etc. can be used for data analysis, data management as well as for planning, and monitoring but the advantage of GIS as it is a unique platform to just not analyze but also visualize spatially. 
     GIS layers can be prepared/generated on different levels or scales such as from village level to tehsil/block/, tehsil/city to the district, district to state level, and from state to national/regional level. So one can use/collect/create input data as per the requirement of the study/project on different levels/scales.
     There are several GIS software that can be used for GIS layers or map layers creation, some of them are paid or others open source. One can use open-source GIS software such as QGIS for the generation of layers/maps.
     To create a feature class in QGIS software, one has to just click on the New option and then click Feature Class. Thereafter just type or define the feature class name.
   Then define the properties of the feature you want to create for this click the Feature Class Type drop-down arrow and choose the feature geometry as per the feature type. After this using digitization tools one can start creating features as per the input database.
     For Example- Different types of maps/layers can be created for a study area such as tehsil boundary, panchayat boundary, village boundary, roads, river, etc.
    Here in this article some base maps/layers are created using QGIS of Phagi tehsil. These generated layers serve as the basis for further spatial and temporal analysis of data for monitoring and planning.
     GIS LAYER EXAMPLES
     1. Phagi Tehsil Maps
       The below figure is a map/layer, which includes the river network of phagi tehsil. It means that two features are represented in this layer, one is the tehsil boundary and another is the river network that exists in this tehsil. In the river feature their attributes in the form of river names are also defined for better understanding. So this layer can be used to measure the area of the tehsil as well as the length of the river network in this tehsil.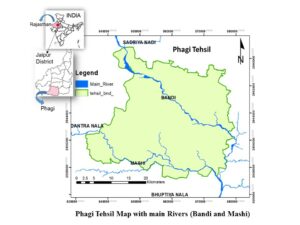 This map/layer representing panchayats exists in the tehsil. The feature class of this feature is polygon/region as it is representing the panchayat boundary within the phagi tehsil. By using this layer one can measure the area of each tehsil, which is a basic entity. Instead of this if this layer is integrated with other databases such as from the above layer of the river, then one estimates the river network or coverage at the panchayat level. Even road networks, forest cover, crop cover, etc. can be estimated at the panchayat level.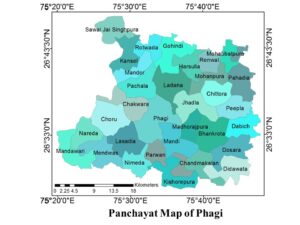 3. Phagi Village Map
       These layers can be generated further at the village level, as below figure. There are many advantages of creating layers at the village level as it is one of the smallest units/levels. In this layer village boundary of the tehsil is created using region/polygon feature as well as feature name attribute such as village name added to the features. Now analysis can be performed at the village level which provides more detailed spatial information comparatively.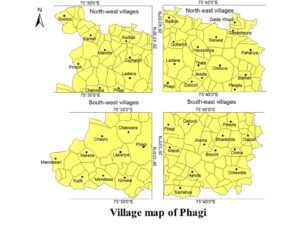 4. Phagi Hydrogeological Map
      This hydrogeological map/layer is generated using secondary source data which are collected from the government department. In this polygon feature class used to create this layer also assigned the name based on hydrogeological properties in the tehsil.